There are two things that confuse me at the moment: why the Indian cricket team still don't allow the decision review system (DRS) and why sites like Trip Advisor still allow unverified reviews. Both are examples of not using systems that exist to make things better for everyone. An unusual subject link, but bear with me.
Twelve months out from the 2015 Cricket World Cup, and with India touring New Zealand at the moment, I recently watched the highlights of NZ's glorious victory over Australia at Eden Park at the 1992 World Cup. As I watched, I was taken aback at some of the poor decisions the players had to put up with. The most glaring examples were a dodgy LBW decision and a run out that I'm sure would these days be adjudged "not out" by the third umpire. here you see Dean Jones just making his ground before Ian Smith smashed the stumps: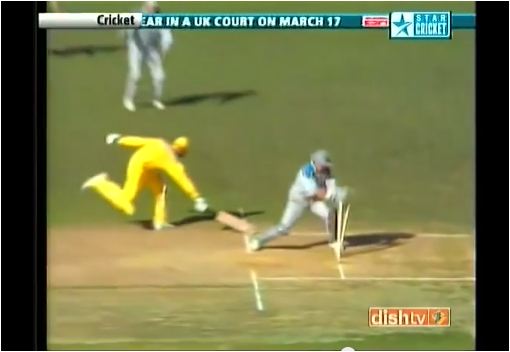 This was of course before DRS (the decision review system,) and even the third umpire, so the players just had to live with what the umpire decided.
India, of course, have not agreed to using DRS in this current tour and they've surely regretted that a couple of times at least. With big nicks onto the pads being given LBW on more than one occasion I have to ask the question – why are they sticking with a system they know is inferior?
It's a similar story with websites that stick with a system that allows travel reviews to be posted with no link to a known booking, so there is a high likelihood of fake reviews sneaking through. A high profile example right now is Trip Advisor, which continues to be under fire from all angles for allowing fake reviews to be posted, thereby misleading the travelling public and diluting the review economy.
The Tourism Industry Association of New Zealand last week issued a press release – penned by ex-NZ cricketer Martin Snedden – warning NZ travel operators of an email doing the rounds that offers "excellent reviews" for a price.
Here's an example of the fake reviews sales email as posted by a Stuff.co.nz commenter: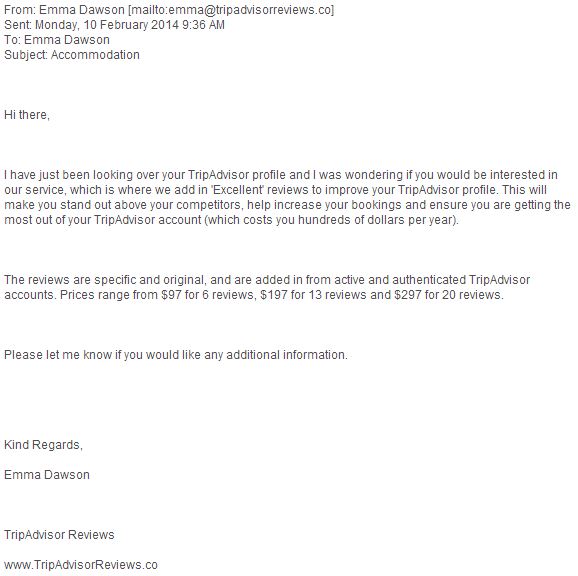 By the time an email like this reaches New Zealand, it has likely done the rounds elsewhere. I am guessing the entrepreneurs dodgy buggers at TripAdvisorReviews have seen evidence there is money to be made and have probably placed at least a few fake reviews.
We made the call a long time ago to only allow verified reviews on Travelbug: you can only review if you have booked through our site. This of course limits the number of reviews we can get, but we can stand by those reviews 100% as being placed by someone with personal experience at the property. Operators are happy with our "right of reply" and we seldom have disputes over feedback anymore.
More importantly, though, we know we provide an accurate and useful place for travellers to keep each other informed and make quality travel decisions. No dodgy run-outs or caught-behind decisions on Travelbug.
There's now a whole eco-system of sites and releases and legal challenges around the Trip Advisor issue. Here's a site that helps you get "real reviews", here's a site that warns you about Trip Advisor and here's a page that tells you how to spot a fake review.
Like the refusal of the Indian cricketers to use the DRS system, Trip Advisor and other sites that allow unverified reviews are allowing a situation to exist when they know there is a much better alternative.
There is plenty of technology available to allow Trip Advisor to cross-check bookings with reviews across the web and provide authentic reviews. It would require some delicate agreements between booking sites and Trip Advisor, but it is technically possible. With Trip Advisor now aggregating third party travel site prices in search results, you'd like to think that the APIs are being worked on to pull these reviews through and tie reviews to actual experiences, but that's yet to make its way on site as far as I can see.
The internet is a powerful medium for sharing and research. Unlike Facebook's potential "fake likes" problem , however, travel review sites have tools available to them to do right by their users and better verify reviews. If they don't, they're ignoring the existence of the equivalent of the DRS system and playing a loose half volley straight onto their stumps.