We've been locked in a vault for a few weeks. Pizza and energy drinks were fed to us through a slot in the door. There was audio playing on an endless loop saying "Make Travelbug the best site around for Kiwis to find and book accommodation". It wasn't pretty in there, but we built a bunch of new features for Travelbug and now we've been let out to tell our story.
Read on to see what's new on Travelbug and leave a comment if you have some features you'd like to see on the site.
New homepage
We love the new Travelbug home page. It's super clean and simple to use. Just pop in your destination, dates and budget into the search boxes. Travelbug will then find you the best available accommodation deals by looking for great discounts and properties that are well liked by other Travelbug users.
We ran an A/B test comparing the new home page with the old home page. This gave us a great measure of which of the home page versions our visitors liked best and found easiest to use. One of the tools we used to do this was ClickTale. It gave us some powerful visualisations of exactly how Travelbug users were interacting with each of the home pages.
Trevor's Travel Blog
We've added a blog. You're reading it now. But you knew that already right? Anyway… Daniel and the rest of our Travelbug team will be using the blog to bring you regular updates, interesting articles and information you may find useful for booking accommodation. Try out the blog now, leave a comment and let us know what you think.

The blog is powered by WordPress which is a deviation from our normal Microsoft tech stack. After looking at a few different options for the blog, WordPress was really the clear choice as an established and fully featured blog engine. We built a theme which inherits from the default "TwentyEleven" WordPress theme, to provide a seamless look and feel. Thanks to Ross in the Trade Me tech team for setting up the blog infrastructure.
Sharing is caring

There's a heap of great accommodation deals on Travelbug. We also have over 15,000 guest reviews and we wanted to make it easy to share these with your friends and family. You can now find Facebook "like", Google "+1" and Twitter "tweet" buttons on all accommodation listings, guest reviews and blog articles. Oh, there's also a sweet Twitter feed showing Trev's latest tweets (over there on the right, see?).
New PDF vouchers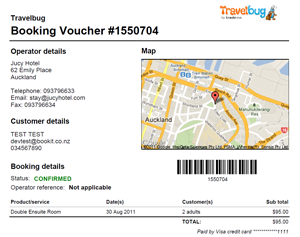 When you book on Travelbug you get a beautiful email sent to you with your confirmation and booking details. We've now added a printer-friendly PDF attachment to this email to make the check-in process even better for both guest and property. It's also environmentally friendly and saves you money on printer ink!
Our friends over at Treat Me gave us a great tip to use SQL Server Reporting Services to generate the PDF vouchers. Thanks guys!
Google feeds
Using Google to find stuff is what all of the cool kids are doing. Now you can find a bunch of extra Travelbug information in your searches for NZ accommodation via Google. Here's an example with reviews that have been placed on Travelbug showing in Google's search results:

Keep an eye out for more useful Travelbug information in your Google results including prices and availability coming soon.
Well that's it from the tech team for now. If you have any feature requests or feedback for the site, let us know by leaving a comment or send us an email to blog@travelbug.co.nz.