It's my 4th birthday, and to celebrate I'm doing more than just helping you find great deals on NZ
accommodation. Want a chance to win $500 in Travelbug credit to use on accommodation anywhere in New Zealand?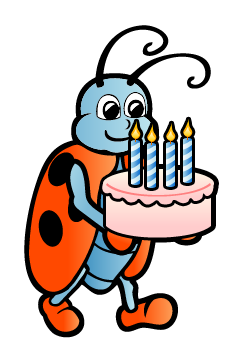 Each day this week I'll give away $500 in Travelbug credit. To enter, you'll need to find 4th Birthday Trevor (that's me!) hidden in
one of the listing photos of one of the over 2,800 accommodation listings on Travelbug.
Sounds hard right? Well, I'm a nice bug so I'll be giving you clues to help you.
Today's clue – Trevor the Travelbug is hiding in the photos of the hotel closest to the place where the Treaty of Waitangi was signed. Which hotel is it and what road
is it on?
When you have found the answer, email competition@travelbug.co.nz with the answer and your contact phone number. We'll draw one winner each day and advise the winner by phone. We also have 3 x brand new 2011-edition Travelbug t-shirts to give away each day as consolation prizes. Mint!
Good luck, happy hunting and happy birthday to me!
Cheers,
Trevor (and the Travelbug team!)