Hello again, travel fans!
We
had heaps of correct entries for Day 1 of the competition, but as you know there can only be one major winner each day!
The clue was: "Trevor the Travelbug is hiding in the photos of the hotel closest to the place where the Treaty of Waitangi was signed. Which hotel is it and what road is it on?"
Here's the pic from yesterday: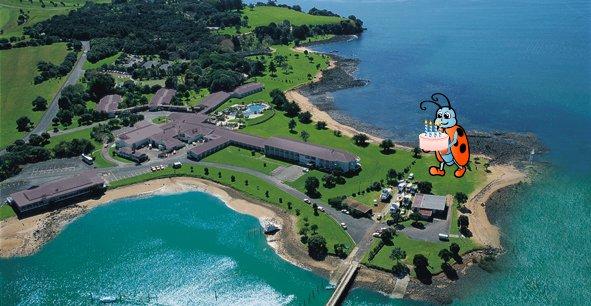 Congratulations to Amy, who won $500 worth of Travelbug credit with the correct answer: 'Copthorne Hotel and Resort Bay of Islands, on Tau Henare Drive'.
Danielle, Graham and Owen also got the answer
correct and will receive Travelbug t-shirts. Nice!
Today's clue: Today, Trevor can be found in a photo on the listing of a boutique Wellington hotel, the name of which is an anagram of "hotel". What is the hotel name and how many rooms does it have?
When you have found the answer, email competition@travelbug.co.nz with the
answer and your contact phone number. We'll draw one winner and advise the winner by phone. We also have 4 more brand new 2011-edition Travelbug t-shirts to give away each day as consolation prizes. Woohoo!
Good luck, happy hunting and happy birthday to me!
Cheers,
Trevor (and the Travelbug team!)