Need a break and love a seaside getaway? Forget saving for a Rarotongan Island holiday, a tropical paradise is only a 3.5 hour drive away (from Auckland) and with discount domestic flights coming up so frequently, a trip to Paihia in the gorgeous Bay of Islands can be very affordable. My partner and I flew from Wellington to Auckland and took a rental car from the airport. Pack your togs, sunhat and make sure your dancing undies are firmly in place!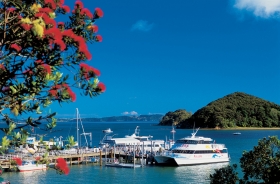 While there are loads of things you can do there, when you are limited for time it's hard deciding what must be seen. Here's my list of must do's:
Stay at the Copthorne Hotel: The Copthorne is a gorgeous resort-style hotel with water views and the closest access to Treaty House, where the Treaty of Waitangi was signed. It has a huge beautiful pool with a cave and waterfall, great for the kids. And for the older kids there is a swim up bar (I'm guessing this will be operational in peak periods) and hot pools. The staff are friendly and we even managed to get a packed lunch for our day's adventures! The meals are beautiful and filling and a lot of the rooms come with a water view.
Visit the Treaty House at Waitangi: The Treaty House and its surrounds is one of the most historically significant locations in New Zealand and a must see for all New Zealanders. There is an amazing account of our young nation's history and beautifully preserved treasures to see, along with gorgeous carved waka and historic buildings like Busby's original residence.
Check out the local market: Situated in the centre of town, the market boasts hand crafts and all sorts of homemade goodies. We bought some homemade chocolate liqueur – yum!
Swim with dolphins: While we went on a rather cold day, we had an amazing experience. The water is warm but there are wetsuits available for the less hardy. We cruised around in the boat for quite a while looking for dolphins but when we finally found some, it was truly magical. They are playful and intrigued by the boat, so they swum up close and jumped around for us. The actual swimming part is more stressful than I would've thought because you have to entice the dolphins into coming closer to you by swimming fast and making noises. Dolphins don't care for a human staying relatively silent and bobbing about – who would've thought!
Go for a drink at a local bar: We had a couple of beers on the deck of the Swordfish Club which has a great view and then had dinner and a dance at the Beach Hut. The dinner was simple burgers and fries but huge and delicious. After dinner they had live entertainment. We danced up a storm and the band was happy to play our favourite hits. Needless to say we should've left them to the singing!
While we didn't squeeze it in, there are a few nearby delights that are well worth looking at. Russell is a quaint little village that is a quick ferry ride away, but save that for another weekend! For nature lovers, the ancient kauri tree 'Tane Mahuta' is well worth visiting on your way home. It's 1,500-2,500 years old and still standing! Haruru Falls are also on the way home and are perfect for cooling off in the summer.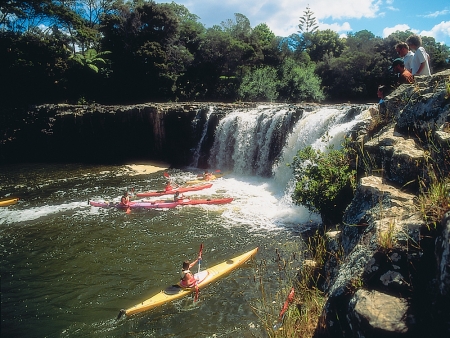 After that fun packed weekend, you'll return to work on Monday perfectly relaxed and ready to tackle the week ahead.
Editor's note – Katie is bang on with some of these picks but I just have to get another plug in for my favourite spot – Russell. Head over on the ferry and check out the first capital of NZ once called the 'Hellhole of the Pacific'. Visit Pompellier House, Long Beach and just chill out in one of the prettiest spots anywhere in NZ.