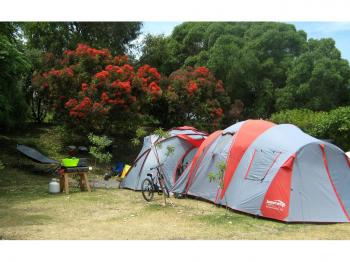 With all the rugby-related activities at present it's hard to look much past October 24th (when the Richie McCaw and his mighty All Blacks will surely hold aloft that wonderful shiny trophy), but sure enough time is marching on and summer is fast approaching. And you know what that means: it's time to book your camping spot, air the tent out, refill the gas bottle and head off on a road trip to one of NZ's many amazing campgrounds or holiday parks.
We have plenty to choose from on Travelbug, all bookable up to a year in advance and with no booking fees. But as there are so many to choose from we thought we'd pick out a few that have fantastic user reviews to help guide your choice.
So here they are, eight great NZ holiday parks, spread from Northland to Otago, each with some great facilities and in some amazing locations so whether you're travelling with your significant other or your kids, you'd do well to check these out. In no particular order:
Alpine Pacific Holiday Park, Kaikoura – an impeccable 100% user review rating sees this park take the honours for our choice in Kaikoura, one of NZ's true tourist hotpots. See the sights and set up camp at this park with a pool and spa pool, trampoline, high-pressure showers and even better – wireless internet.
Martinborough Holiday Park, Wairarapa – if you haven't been to the Wairarapa then this could be a good excuse. Book a stay here and use it as a base to take a cycle tour of the local wineries, head out to the coast or just chill out. They've got great facilities and bike hire on site as well!
Bay View Snapper Holiday Park, Napier – what a spot, set right on the shores of Bay View to the north of Napier. Right on the doorstep you've got wineries (you can't go past Esk Valley Estate for some of the best wines in NZ), lavender farms and some great fishing. Tent sites start at just $17, so book ahead and enjoy all Hawke's Bay has to offer.
Greymouth Seaside Holiday Park, West Coast – here's another park right by the beach, but this time over on the gorgeous west coast of the South Island. They've got tent sites right through to two bedroom units, a great playground for the kids and excellent facilities. Plus there are fewer more beautifully wild spots than the West Coast so you can't really go wrong.
Leith Valley Touring Park, Dunedin – sometimes even on a trip to a city, a holiday park can be a great option. You're close to all the action but in the sheltered park-like setting that a camping ground offers. User reviews mention the friendly staff and the nearby glow worm caves as particular highlights of their stay.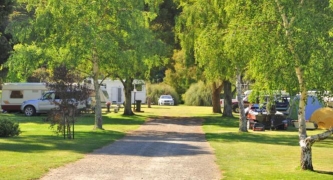 Parklands Marina Holiday Park, Picton – perfect either as a standalone holiday or as a stop on a longer South Island roadtrip, this looks like a gem of a spot. Just out of Picton is Waikawa where this holiday park offers quiet accommodation and fantastic facilities. Not far away you have the town centre and Blenheim's many wineries are about a twenty minute drive away.
Hanmer River Holiday Park, Hanmer Springs – Hanmer has to be one of the most relaxing places in New Zealand, a great place to head and just chill out. You can enjoy the local activities and thermal pools, or just hang out at the holiday park with a book or play with the kids in the games room. And they've got a massive 14-foot trampoline so you can perfect your somersault during your stay.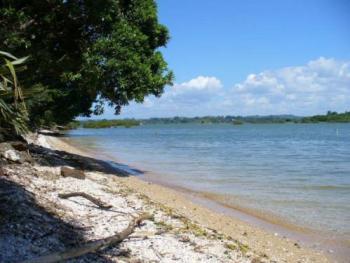 Aroha Island, Kerikeri – a truly unique mix of accommodation and nature reserve, set in a 12 hectare bird sanctuary outside of Kerikeri. With cottages, lodges and tent sites, they've got all you need and you might just see a North Island Brown kiwi!
So there you have it, 8 options around NZ for top notch holiday parks. Whether you want to pitch a tent, park a camper van or stay in a cabin you'd do well to try one of these. If they don't take your fancy, check out one of the others on Travelbug.
Happy camping!