We're all done bar the final and the fairy tale continues for the All Blacks who are through to the championship game of their home tournament and one last showdown against a recent World Cup nemesis – France. And Aaron Cruden shows that boys from Palmerston North can jump straight into the big time and look right at home.
If you're heading to the game this Sunday and don't want to miss any of the action in town, you might want to book one of our Secret Sale hotel rooms in the Auckland CBD. There aren't many rooms available anywhere in town but we've secured some from $350 per night so you can stumble to your room after yelling yourself hoarse and enjoying a couple of quiets in the Fanzone.
For example, there's this 4-star hotel for $350 per night, or this 4.5 star apartment hotel for $380 per night. If you want a touch of luxury, we've also got a few final rooms at this 5-star hotel for $450 per night. This might seem expensive (and normally it would be), but we're talking about some of the last rooms in town here.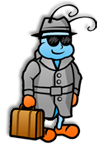 Travelbug's Secret Sale is our version of a feature seen on quite a few sites, where you don't find out exactly which you've booked until you've paid. Then all is revealed: you get your confirmation email telling you the name and exact location of the hotel. So if you're willing to take a bit of a risk, you really can save a lot.
But because we like you, we won't let you take TOO much of a risk! We're not into letting our customers down so we try to make sure we over-deliver on value.
Why do hotels even do this? Well, as you can imagine, top class hotels don't want to offer super-low prices in big flashing lights as it can make their brand seem a little cheaper than they'd like. Secret Sale lets them fill their rooms without being seen to be offering those low low rates.
To help guide your choice, Travelbug shows you the approximate location of the hotel on a map, tells you the star rating and sometimes a little teaser about the hotel so that you can at least feel a little more comfortable with the small risk you're taking.
So next time you need a room but don't mind exactly where you stay, give Secret Sale a try. And this weekend's World Cup action might be just the time. So make like Cory Jane under the high ball and grab these rates with both hands!