My best buddy and I share a not-so-guilty magpie tendency to collect second hand 'upcycled' furniture and art. Our homes are happily full of super eco, quirky retro 'conversation pieces' that we know our hubby's are secretly proud of, despite them saying otherwise!
A few months ago we decided to make a roadtrip of it – second hand shopping from Wellington to the Hawkes Bay and back via Palmerston North. Luckily we both have husbands that give us a wide-berth, who simply nodded, sighed and prepared for their bachelor weekends.
We dropped our combined tribe of five kids off at various preschools and school about Wellington; then, takeaway coffees in hand, we hit the road in our huge 4 wheel drive 7-seater plus roof box beast headed for the Wairarapa. Never had we felt so free, never had a weekend looked so good, never had we had such a quiet and empty truck!
Greytown was our first stop, then Carterton hot on its heels where Watsons is a true treasure trove. A few little purchases warmed up the morning, before we headed north to the undiscovered joys of the Sallys in Eketahuna (fake fur coat for my buddy, couple of pieces of nice art for me) topped off by a bunch of places in Woodville.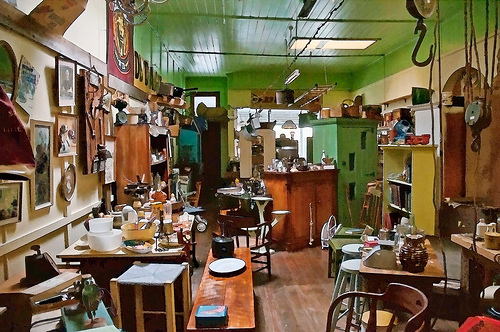 We then hit the total jackpot at Bay Country Antiques in Waipawa – not the cheapest place but certainly great retro wonders without the antiques price tag. And the last stop of the day was in the Hawkes Bay, where we spied a few more treasures to end our funky junk day.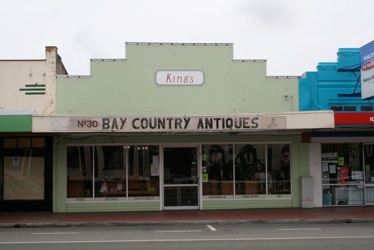 Tired but happily shopped out we made it to Napier for the night. After a divine drink and platter in the sunny courtyard at Kilim Turkish Restaurant in town, we jumped in the half stocked truck and headed down to Ahuriri by the port and came across 3 Doors Up – a small but perfectly formed restaurant with a stunning Italian-styled courtyard where we sat out till late.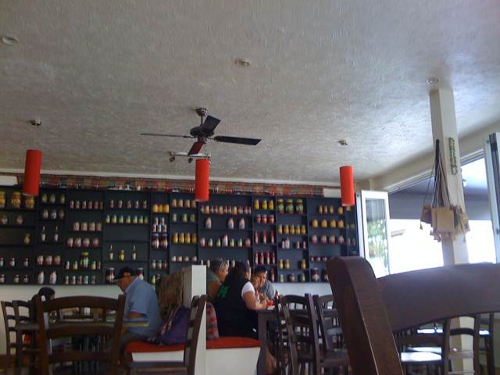 Next morning we wandered the lovely 'new' shops after having the most divine gluten-free eggs benedict at Café Divine. We then headed down to Hastings, struck a super bargain car boot sale enroute along with a stunning road side garage sale north of Waipawa; here we both bought chairs, tables, light shades, cushions and old suitcases galore for a fraction of their value and provided plenty of entertainment for locals and passersby as we pushed, prodded and wrestled it all into our ever-filling truck.
We headed south through Woodville (again!), stopping at the Vikings Haul that we'd missed on the way through, and then cruised into Palmerston North for the night. Not much was happening in Palmy second-hand wise, so next morning we threw down a gorgeous brunch with great coffee at Elm Café on Fitzherbert Avenue and headed to Shannon.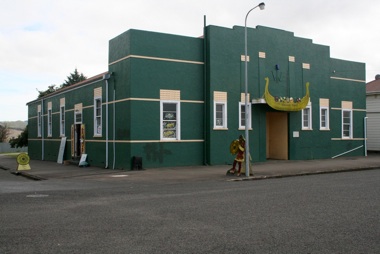 Despite the issue of space in the truck, we perked up at the impressive collection of new and second hand shops in Shannon. Here was where I found my find of the trip – a wonderful old wooden teacher's aide from the early 1900s, or earlier. Complete with a long turnable scroll of pictures for teaching reading and writing – it now hangs on my wall as a really unique art piece. My friend found a gorgeous new little black dress here too. What a place!
Our trip was nearly at an end, but we still managed to wander round the lovely Otaki market and make a final couple of small purchases for the whanau before heading home to give the hubbies a well-earned breather. What a weekend and we got a whole heap of goodies without parting with too many dollars. For our next trip we're thinking about heading up to New Plymouth via Wanganui – just imagine the treasures waiting to be found…
In the meantime, our hubbies say if we want all the 'new' stuff in the house, we have to sell the old treasures on to Trade Me to make room… it's a tough life…
 – This blog post was written by Sharon, Content Writer and Editor for Trade Me