As a Wellingtonian, believe me when I say there simply is no beating the coolest little capital in the world. OK, I missed out the 'on a good day' part but hey, 'tis a wonderful place regardless! That's why the team over at Positively Wellington Tourism have put a whole lot of love into a new "mean-as" site to make Wellington even cooler: behold, the Wondrous Wellington Advent Calendar!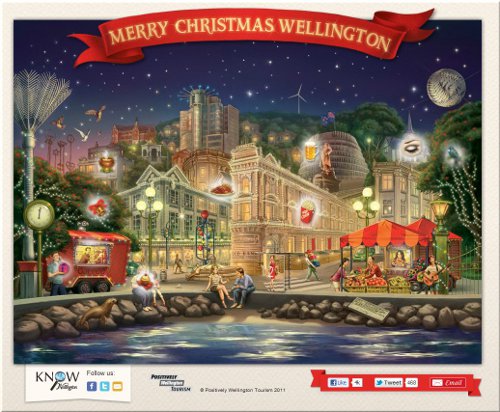 Here's how it works: the PWT team have rounded up some of the most awesome places in Wellington and asked what treats they'd like to give this Christmas. Then, they hid said treats behind digital doors all around the 'city' for people to open up each day, one per day. Exciting, eh?
Of course, we don't want to give away the surprises and let you know what's coming but you can expect all manner of great vouchers and coupons perfect for Wellingtonians and those visiting the region (these include gifts from Te Papa store, ZEALANDIA, Wellington Zoo, Carter Observatory and heaps more!).
The calendar has gone down a treat so far according to PWT – here's a fun selection of peeps' tweets:
"It is like a bedtime story for my eyes."
"That soft focus effect is making me a little homesick…"
"Far better than those silly little chocolates."
"Heimwehmasochistin, ich"  (Hm, we might need a translation for this)
The team are all up for sharing, and the calendar has had thousands of shares on Facebook, Twitter and even via the old-fashioned methoed of email already. So in the spirit of the festive season, jump on board and spread the love!