Crikey, it's the 22nd of December already and I'm fortunate enough to be heading off on a big North Island road trip holiday at the end of today. (Ed – lazy bugger!) Before I do, though, I thought I'd pop up a quick summary of our Top 10 from the year on Travelbug. What have we been up to this year? Well, here we go:
1. Travelbug growing quickly – it's been a year of rapid growth for us as a site. We're had a few record days, weeks and months and last week was our biggest ever week of bookings. Hooray!
2. Secret Sale released – In May we released our new feature that lets you get awesome deals on great hotels, but only if you are happy to take a little risk. With Secret Sale, you only learn the name of the hotel after you've paid – it's fun! A decent chunk of our bookings are Secret bookings now, so it seems like you liked it.

3. Treat Me/Travelbug deals – In April we did something that, as far as we can tell, was a world first: we linked Treat Me accommodation deals with Travelbug so you can see what is available before you buy the voucher, and bookings are processed instantly through Travelbug, just like this deal here for Hillside Hotel eco lodge. No need to call the hotel! Watch for more great Treat Me action next year.

4. Verified reviews – all reviews placed by guests that booked on Travelbug get marked as "verified" so you can be guided by Travelbug travellers about their experience. We've got over 16,000 reviews now, so there's plenty of information to help guide your choices.
5. Travelbug 0800 number – Just a couple of weeks ago we added an 0800 number to help Travelbug users with the booking process. Have a question about how the site works or what's included in a hotel rate? Give us a call and we'll do our best to help. You could even book with us over the phone.
6. Travelbug Awards – In January we did the first round of our Travelbug Awards, shouting to the rooftops about the great places to stay on our site. The next lot of awards will be bigger and better, so watch this space for news about who's tops for 2012.
7. Travelbug Survey – this was a cracker, with over 11,000 completions and some cool results. You can read the survey results blog post here and see our nifty infographic (thanks Leanne!) here. We'll be doing these every 6 months to keep track of the mood of all our Travelbug travellers.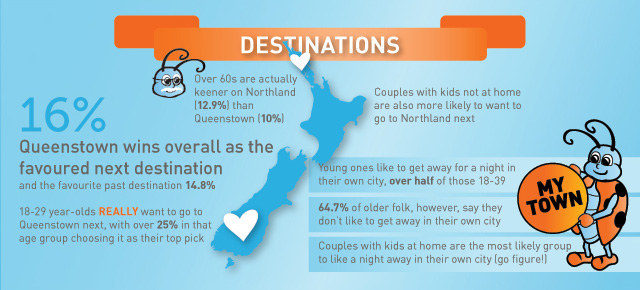 8. Pre-travel emails – one of my favourite features is the new email we send you a few days before your booking. It helps remind you of what you've booked, gives a handy little nap and maybe some special offers for food and drink, and a nice little weather forecast for your stay to help you decide what to pack. Choice.
9. New homepage – one day in April we decided we wanted a new homepage, so we built one and put it out within days, making it easier for you to search for great places to stay around NZ. We'll keep moving fast and adding new features to keep making Travelbug the best place to book NZ accommodation. (in my humble opinion)
10. Still no booking fees – lastly, not a new thing but worth mentioning, is that we charge you no fees, unlike some other websites that will remain nameless that charge a per-booking fee and even credit card fees! Not us, the room price you see is the price you pay.
So that's what we've been up to, it's been a heck of a year and we're looking forward to lots of Christmas mince pies and backyard cricket. If you need to get hold of us, here are our holiday support hours.
Thanks for helping make Travelbug a great place to book accommodation and keep other travellers informed. In 2012 we'll be bringing you a mobile website and lots of other goodies, so we'll see you then.
Cheers – Daniel and the Travelbug team