One of the reasons I love living in Dunedin is that we are surrounded by awesome destinations, all within a couple of hours drive. This Xmas break, my wife and I are taking advantage of this with a handful of small trips in our caravan with the kids.
We are roughly covering all three of the main compass points you can travel on land from Dunedin…
West, 2 hours to Roxburgh:
To the west of Dunedin (inland) you navigate towards Central Otago which is well known for destinations like Queenstown and Wanaka. Along the route from Dunedin to Queenstown you will pass through some beautiful spots like Lawrence, Roxburgh, Alexandra, Clyde and Cromwell.
In late December we spent a few nights in Roxburgh, a place we have driven through many times but never stayed. We found a gem for our accommodation at Roxburgh's Teviot Country Motels & Backpackers. The kids enjoyed feeding the goat and ponies and the owner also kindly allowed us to help ourselves to the big fat cherries growing on the grounds. Nom nom nom.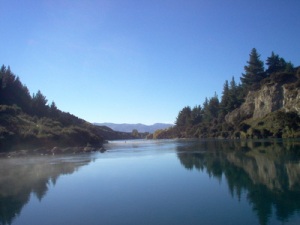 We did a couple of short walks in the area, recommended by the Visitor Centre and I love walking along the Clutha river. It was hot in Roxburgh, around 30 degrees, so a good spot to swim was mandatory. We found just the ticket at Pinder's Pond (which my sons affectionately renamed "Piddler's Pond"), a large man made swimming hole left behind by Roxburgh's mining past. At it's deepest, Pinder's Pond is 23 metres deep.
The jewel in the crown of Roxburgh are Jimmy's pies! Without question the best mass produced pie in the universe, made in Roxburgh. Who ate all the pies? Well, we certainly tried.
North, just half an hour to Karitane:
Dotted along the coast to the north of Dunedin you will find many "quintessentially kiwi" beach spots like Moeraki, Karitane, Waikouaiti and Kakanui.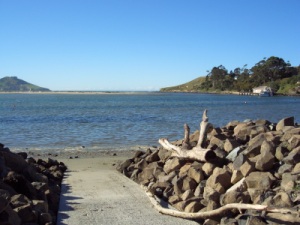 Last week we spent a few days at Karitane. If you're looking for a place to unwind, this is it. We stayed with family who rented a holiday house via Holiday Houses, which had a nice flat spot for our caravan out front. Our time in Karitane was spent taking short walks, swimming at the beach and fishing.
One small highlight for me was found on a day trip to Palmerston. I came across a second hand store called Trash Converters. Ignoring the blatant plagiarism in their branding, this place had the most amazing collection of original, unopened Star Wars figurines and other memorabilia. I spent a good while in there reliving my childhood.
South, 1.5 hours to Pounawea: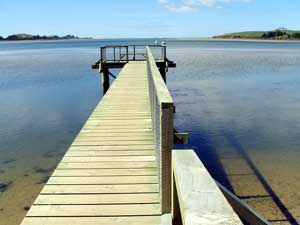 A lot of Kiwis who travel overseas often say that it took leaving NZ before they could appreciate what is right on our doorstep here at home. Reading between the lines, that means we have a lot of spots that go unappreciated by those that live right near them. I would say that Dunedinites who don't holiday in the Catlins region (just 1.5 hrs south of Dunedin) would have to rate highly on this measure.
The Catlins region offers some of the most amazing forests, lakes and beach spots in the country. Before the kids go back to school this month we are planning to take the last of our trips to Pounawea. It looks amazing and we are looking forward to it.
My advice
Come and spend some time enjoying everything Dunedin has to offer, just make sure you allow time in your itinerary to make day trips to great nearby spots!
Where are your favourite spots within a couple of hours from home?