During my stay in Vegas I both loved and hated the Cosmopolitan hotel: it was hell and it was heaven. But more on that later.
I stayed in 5 hotels in my 8-night trip and that means I've now stayed in 8 Vegas hotels. Yes, I'm a hotel geek and and I love the whole hotel experience. When I enter a room I look in every cupboard, every drawer, scrutinise the toiletries (oh, they're white-labelling L'Occitane…) and the shoe shine mitts and sometimes I have even found myself pacing the room to check the dimensions. I make no apologies for this affliction. Las Vegas, for such a hotel geek, is paradise, with over 350 hotels and 150,000 rooms. I chose to stay in more places than I needed to just so I could see the inside of more rooms at more hotels.
On our first night, we stayed in old-school Vegas on Fremont Street at the Golden Nugget. We pulled up outside, made our way through the lobby and towards check in through a sea of tattooed, black shirted and crazy-haired goth/hillbilly/rocker/punks. It wasn't til later we found out that the 2012 Punk Rock bowling tournament was on, an event that so clearly defines the ability of the US to have something for everyone that it boggles the mind. I wonder if the next week there was an Amish lactose-intolerant Brazilian jiu jitsu tournament or an Irish-American hydroponic sprirulina gardening conference? A quick Google search told me there probably wasn't.
Anyway, the Golden Nugget was great. Sure, there was a lot of smoking in the hallways and the rooms weren't flash. But there was a very nice vodka bar in the lobby and a great pool complex that included a shark tank and a water slide that goes through the shark tank. Yep, the shark tank.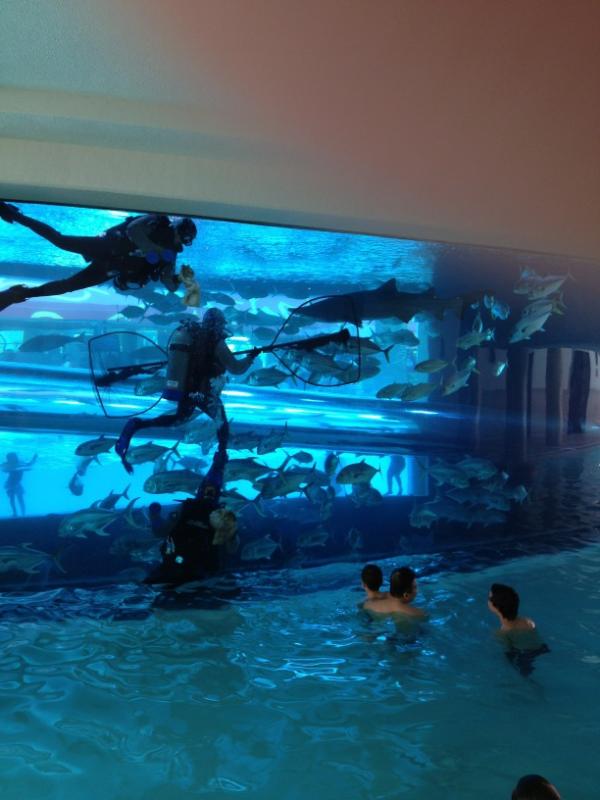 Highly recommended for any stay, and you have to be sure to walk through the chaos of Fremont Street late at night.
For nights 2 and 3 we stayed at THEHotel at Mandalay Bay, a real step up in luxury. The moment we stepped out of the 40 degree heat of Vegas and into the lobby we were hit by a super-cool burst of coconut-scented air. It is amazing the way a scent like that stays with you, I can still smell it now and remember how it made me feel. More hotels in NZ should try the use of scents to provide an entire experience.
We also tried the $20 trick here and it's uncertain if it worked. Neil thought it did and you never argue with Neil, so I guess it worked and we did get a decent room. A wee tip for a stay at THEHotel is to make use of the free bottled water in the lobby, and to get to the pool at Mandalay Bay early. It fills up very quickly, and there are a lot of kids thanks to the wave pool, so securing a lounger can be tough.  Wi-fi access at THEHotel was possibly the best of the lot, although I think we had a wi-fi repeater right outside our room, which helps.
OK, onto the Bellagio for nights 4, 5 and 6. Ahh, the Bellagio, simply a great all-round hotel. From the hourly water fountain shows to the indoor garden, this place knows how to deliver an experience. It also had the friendliest blackjack dealers who seemed to make sure I didn't lose any money which was nice of them. I think they must simply enjoy a challenge because I really suck at blackjack.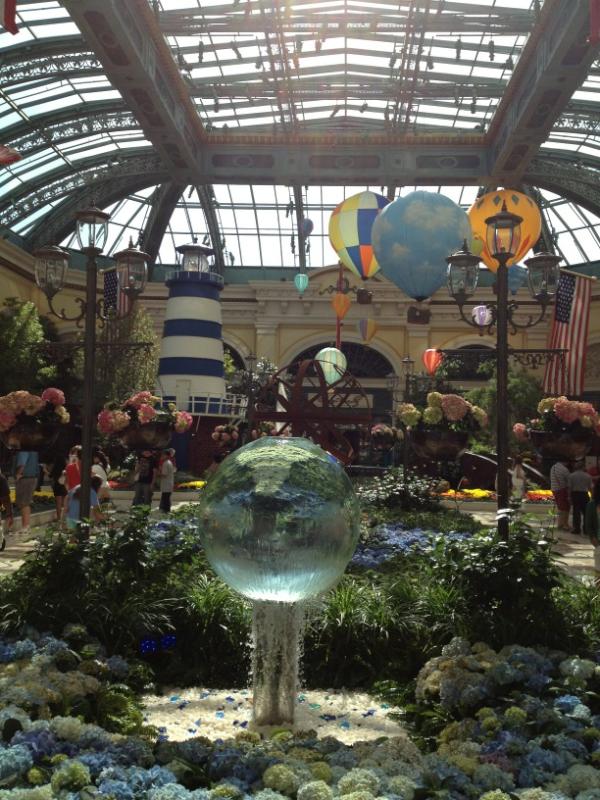 It was during our stay here that I had my first exposure to the Cosmopolitan when I got out of a taxi, headed towards the doors to the lobby, felt my pocket and realised my iphone (a work device and my lifeline home to my nightly Facetime calls to my family) had fallen out of my pocket and was in the taxi, headed god knows where. I ran around like a man possessed for a while and it took the delicious tapas upstairs (best sliders I've ever had) to calm me down and lull me into a reluctant acceptance that my phone was indeed gone for good. This was not the Cosmopolitan's fault, but at that point I didn't love the hotel.
(I got my phone back the next day, by the way, dropped off by the cab company. Incredible. If I had lost it in Wellington I reckon it would likely have been gone forever. So Vegas isn't quite full of thieves and scoundrels.)
Sick of luxury and pampering, I decided to head over the road for a night at Bill's Gambling Hall and Saloon. This was a whole other world, with beer pong tournaments in the bar, sticky carpets in the main casino area, and an honest-to-goodness cheap steak dinner if you dined between 3am and 8am. We met a housekeeper who had been there 30 years cleaners in the same hotel. In a town like Vegas, 30 years is 3 lifetimes, and the hotel had that same feel of age, like it had done the hard yards. Having said that, the room was fine. Clean and tidy, with an awesome view of the Bellagio fountains. Would I stay there again? Probably not, but it was worth a look.
For my last night it was to hotel #5, the Cosmopolitan. I had by this time forgiven it for my phone incident and I was open to absorbing its awesomeness. In all seriousness, this hotel is impressive and on all fronts it delivered. From the digital art installation in the lobby that provides a constantly changing set of images and lighting changes to the art vending machines that let you take home a wee piece of handcrafted one-of-a-kind art, the Cosmopolitan is an oasis of cool and style in an often garish and crass town. If you find the secret pizza joint you must try the "white pie", and I can highly recommend the pools – a great mix of people meant it wasn't too loud or too kid-friendly. I couldn't fault the Cosmopolitan.
http://vimeo.com/21560875
So there you have it. The winner was, as you've probably guessed, hands down the Cosmopolitan. Rates are not super-low ($189 on Travelbug next week) but if you can fit it in the budget you should. Otherwise, I'd probably stay at the Bellagio again – they've got discounts pretty frequently if you can find periods of low demand.
Here are 5 last highlights of the trip that I reckon you should check out:
Poker at Planet Hollywood – a good mix of people and a relaxed atmosphere
A drink at the top of the Mandarin Oriental – a simply stunning view of the trip
Absinthe show at Caesar's Palace– the anti-Cirque du Soleil and a breath of non-PC fresh air
Dinner at é by Jose Andres – incredibly hard to get in (I didn't get there) but my friend says it's the best meal he has ever eaten but also, "I doubt I will have a more expensive meal again in my life"
Outlet mall at the North End of the strip – if you're after jeans or shoes or Gap stuff, you'll love it
That's probably more than enough. If you've read this far you must love the idea of Las Vegas, so make sure you check out the rates on Las Vegas hotels on Travelbug.
Cheers!